View Available Classroom dates
View Available Classroom dates
ATTENTION: Due to unforeseen circumstances and after careful consideration, YOW Canada will no longer be offering and supporting WAH training as of June 30th, 2021. After this date, we will no longer be holding classes for Working at Heights.

We are currently unable to offer private classroom training
Please note that if you have already certified with YOW Canada, your certificate will remain valid until its expiry date.
We apologize for any inconvenience this may cause. We appreciate and value your support over the years. Please keep checking in for new courses being added to our catalogue very soon.
WAH Classes have Resumed!
YOW has put the following safety measures in place:
Sanitizing the classroom and washroom surfaces before and after each class.
Desks and chairs have been arranged to be 2 meters apart, and class size is limited to 9 learners.
Contact-less training.
Trainees are encouraged to bring their own equipment, or use gloves when using our equipment.
This is Ontario's first blended Working at Heights program!
YOW Canada's Working at Heights (WAH) course complies with the Ontario Ministry of Labour's (MOL) Working at Heights Program Standards.
YOW Canada is a
CPO approved Working at Heights Provider
( MOL #PRO-34687).
Who Should Take this Course?
Ontario workers who are required to use fall protection equipment on 'Construction Projects', must complete a Chief Prevention Officer (CPO) approved Working at Heights (WAH) training program. If you don't have the training you may be subjected to a 'fine' or could be 'ineligible' to work on the jobsite.
For More information please view the Ontario Ministry of Labour FAQs.
Otherwise, for any other workers who work in other Provincially or Federally designated 'sectors', YOW's Fall Protection (FP) training course will continue to be valid and available.
About This Training
YOW Canada has developed Ontario's first blended learning Working at Heights program. This comprehensive WAH program is an effective and interactive way to keep you and your employees up-to-date with Working at Heights training requirements for construction projects in Ontario. Our program delivers:

Part 1 Theoretical (3.5hrs):
Basic Theory online (E-Learning) using multiple delivery methods (audio, text, video, interactive, etc.) to improve learner engagement (3.5 hours done online at the learner's chosen pace).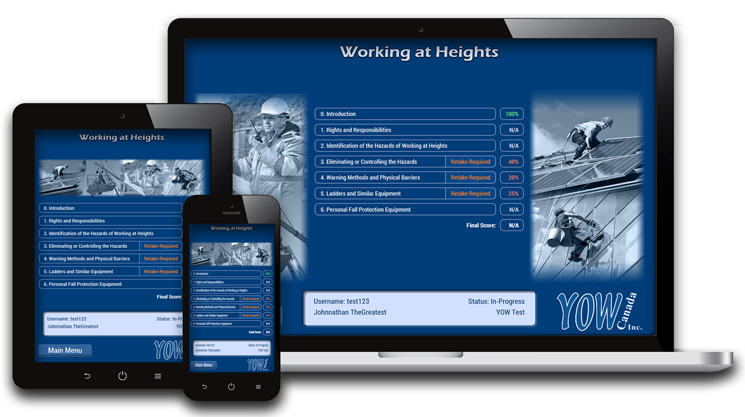 This course is also compatible with most smart-phones and tablets!
Part 2 Classroom Training (4.5 hrs):
Practical Training is delivered in the classroom to provide workers with the hands-on, practical experience for working safely at heights.

The Part 2 classroom date and location will be selected when activating the course. The Part 1 (Theoretical online) must be completed by the trainee before attending Part 2 (Practical Training). For more information click here.

This course is only available in English at this time.
Benefits of Blended Learning
Blended Learning is a great deal more effective compared to traditional 'long classroom courses'. It is the fastest most effective way to get trained for WAH and saves employees and employers time and money.
For more detailed benefits click here: Benefits of Blended Learning.


Current Classroom (Part 2) Availability:


Please note: Due to unforeseen events, YOW Canada is no longer offering Working at Heights Training in the GTA. Our Ottawa, London, and Cambridge classes remain available.

If you require training in the GTA, you can visit our Blended-Learning Training Partners page. These trainers have taken YOW Canada's WAH Train-the-Trainer program and are CPO approved to deliver YOW's blended learning WAH course:
http://www.yowcanada.com/WAH/providers.asp
Filter By Location:
Date
Location
Available Seats
Wednesday, June 23, 2021
8:00:00 AM
Ottawa
YOW Canada Safety Training - 1492B Star Top Rd (Top Floor)
K1B 3W6
2