We can also deliver training at your location for 8-12 employees...No travelling and no extra cost to you!
View Available Classroom dates
View Available Classroom dates
COVID-19 Precautions:
Following the announcement from the MOL, WAH classes are suspended until further notice. This is to help prevent the spread of Covid-19 and keep everyone safe and healthy.
The Ministry of Labour, Training and Skills Development is giving workers in the construction sector an extra year to renew their training if they work at heights.
The extension applies to workers who successfully completed their working-at-heights training between February 28 and August 31, 2017. The validity period, normally three years, would have ended this year. It will now end in 2021. For more information, visit their website
here.
If you are looking to purchase WAH training, please call us toll free at 1-866-688-2845 or email us at
info@yowcanada.com
.
Who Should Take this Course?
Ontario workers who are required to use fall protection equipment on 'Construction Projects', must complete a Chief Prevention Officer (CPO) approved Working at Heights (WAH) training program. If you don't have the training you may be subjected to a 'fine' or could be 'ineligible' to work on the jobsite.
For More information please view the Ontario Ministry of Labour FAQs.
Otherwise, for any other workers who work in other Provincially or Federally designated 'sectors', YOW's Fall Protection (FP) training course will continue to be valid and available.
About This Training
YOW Canada has developed Ontario's first blended learning Working at Heights program. This comprehensive WAH program is an effective and interactive way to keep you and your employees up-to-date with Working at Heights training requirements for construction projects in Ontario. Our program delivers:

Part 1 Theoretical (3.5hrs):
Basic Theory online (E-Learning) using multiple delivery methods (audio, text, video, interactive, etc.) to improve learner engagement (3.5 hours done online at the learner's chosen pace).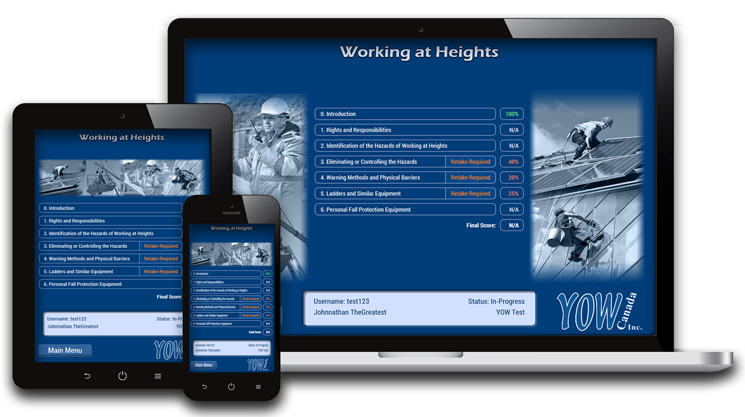 This course is also compatible with most smart-phones and tablets!
Part 2 Classroom Training (4.5 hrs):
Practical Training is delivered in the classroom to provide workers with the hands-on, practical experience for working safely at heights.

The Part 2 classroom date and location will be selected when activating the course. The Part 1 (Theoretical online) must be completed by the trainee before attending Part 2 (Practical Training). For more information click here.

This course is only available in English at this time.
Benefits of Blended Learning
Blended Learning is a great deal more effective compared to traditional 'long classroom courses'. It is the fastest most effective way to get trained for WAH and saves employees and employers time and money.
For more detailed benefits click here: Benefits of Blended Learning.