Working at Heights in Ontario
This is a Blended Learning course which is a combination of 'online' and 'classroom' training.
QTY
1-9
10-49
50-99
100-499
500+
Price Per Person

$169.95

$159.95

$149.95

$139.95

Call for Quotation
Runtime Approx. 3.5 hours
A device with an internet connection is required.
Devices Supported:



Desktops and Laptops


Smartphones and Tablets
Latest Update:
The Ontario MOL is conducting a blitz for Falls in the workplace this summer. Are you in Compliance?
Learn more here.
View the list of
Blended-Learning Training Partners
.
This Course Covers
WAH Introduction & Regulations
Hazard Elimination, Fall Prevention & Fall Arrest
Fall Protection systems and components demonstration, use, inspection & maintenance
Rescue Planning
Emergency Rescue & Fall Protection Overview
Interactive exercises, tests & certificate
Refund Policy
Please note that due to the nature of this training program, there is a special refund policy in place. For more details click here:
WAH Refund Policy
.
We can also deliver training at your location for 8-12 employees...No travelling and no extra cost to you!
View Available Classroom dates
View Available Classroom dates
This is Ontario's first blended Working at Heights program!
YOW Canada's Working at Heights (WAH) course complies with the Ontario Ministry of Labour's (MOL) Working at Heights Program Standards.
YOW Canada is a
CPO approved Working at Heights Provider
( MOL #PRO-34687).
Who Should Take this Course?
Ontario workers who are required to use fall protection equipment on 'Construction Projects', must complete a Chief Prevention Officer (CPO) approved Working at Heights (WAH) training program. If you don't have the training you may be subjected to a 'fine' or could be 'ineligible' to work on the jobsite.
For More information please view the Ontario Ministry of Labour FAQs.
Otherwise, for any other workers who work in other Provincially or Federally designated 'sectors', YOW's Fall Protection (FP) training course will continue to be valid and available.
About This Training
YOW Canada has developed Ontario's first blended learning Working at Heights program. This comprehensive WAH program is an effective and interactive way to keep you and your employees up-to-date with Working at Heights training requirements for construction projects in Ontario. Our program delivers:

Part 1 Theoretical (3.5hrs):
Basic Theory online (E-Learning) using multiple delivery methods (audio, text, video, interactive, etc.) to improve learner engagement (3.5 hours done online at the learner's chosen pace).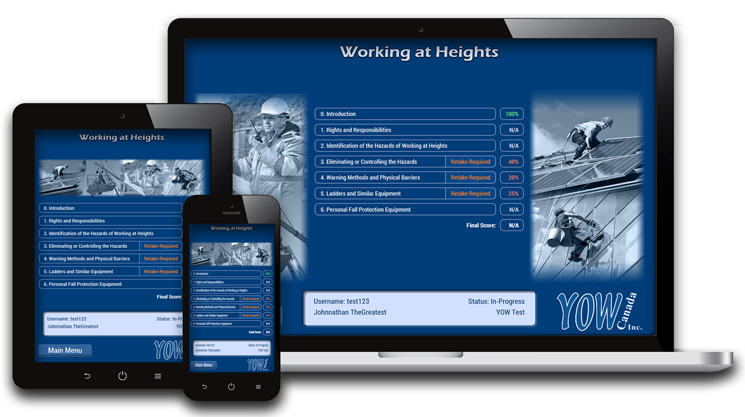 This course is also compatible with most smart-phones and tablets!
Part 2 Classroom Training (4.5 hrs):
Practical Training is delivered in the classroom to provide workers with the hands-on, practical experience for working safely at heights.

The Part 2 classroom date and location will be selected when activating the course. The Part 1 (Theoretical online) must be completed by the trainee before attending Part 2 (Practical Training). For more information click here.

This course is only available in English at this time.
Benefits of Blended Learning
Blended Learning is a great deal more effective compared to traditional 'long classroom courses'. It is the fastest most effective way to get trained for WAH and saves employees and employers time and money.
For more detailed benefits click here: Benefits of Blended Learning.


Current Classroom (Part 2) Availability:
To request Part 2 classroom training at your facility for 8 or more trainees or if you do not see a classroom that meets your needs please contact info@yowcanada.com or call YOW directly at 1-866-688-2845.

You can also view the list of Blended-Learning Training Partners to find one to meet your needs.


Filter By Location:
Date
Location
Available Seats
Friday, December 6, 2019
9:00:00 AM
Toronto
Private Class
FULL
Tuesday, December 10, 2019
8:00:00 AM
Ottawa
YOW Canada Safety Training Centre - 1492B Star Top Rd (Top Floor)
K1B 3W6
8
Thursday, December 19, 2019
8:00:00 AM
Ottawa
YOW Canada Safety Training Centre - 1492B Star Top Rd (Top Floor)
K1B 3W6
5
Wednesday, January 8, 2020
9:00:00 AM
Mississauga
Private Class
FULL
Tuesday, January 14, 2020
9:00:00 AM
Mississauga
Private Class
FULL
Thursday, January 23, 2020
8:30:00 AM
Ottawa
Private Class
FULL