Issue 33
YOW Canada E-News 2016
After a short break, YOW's E-Newsletter is back! We hope you enjoy this newsletter and invite you to send us any questions you may have to info@yowcanada.com.
Whats New in 2016?!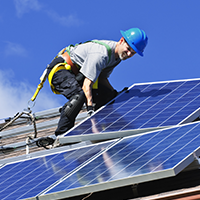 WAH: Working at Heights in Ontario:
YOW Canada has developed Ontario's first blended learning Working at Heights program. This comprehensive Ministry of Labour approved WAH program is an effective way to certify your employees for Working at Heights on construction projects in Ontario. The blended learning combines online delivery (3.5 hours of Part 1 "Basic Theory") with face-to-face delivery (4.5 hours of Part 2 "Practical Learning") to allow learners more control over their learning process. The blended learning approach of "telling, showing, and then doing" has proven to be very effective in learning and retaining knowledge, particularly in adult learning. To learn more about this course visit our website at: www.yowcanada.com/WAH
Working at Heights in Ontario: Train-the-Trainer:
YOW Canada's new 2-day Train-the-Trainer program provides the resources and instructional methods needed to become an effective WAH Training Provider. YOW Canada has spent over 8 months developing our WAH blended learning training program and working with the Ontario Ministry of Labour (MOL) to ensure that it exceeds all the required standards. You can save time and money by using our MOL approved WAH program for your own submission to become an approved Ontario WAH Training Provider. YOW is also looking for approved trainers to teach throughout Ontario! To learn more about this course, visit our website at: www.yowcanada.com/WAH/TtTM.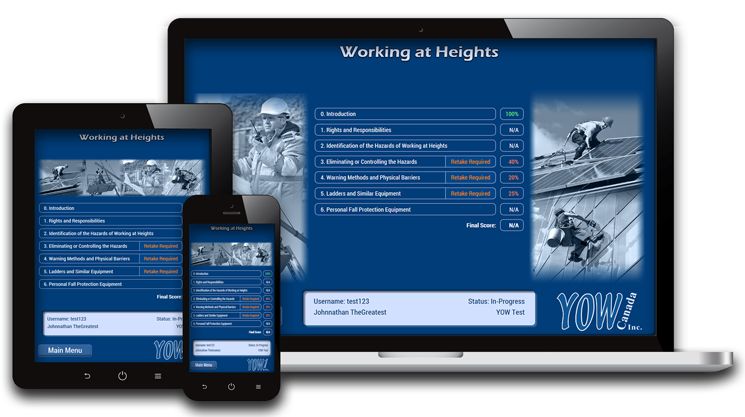 Smartphone and Tablet Compatible Online Courses:
While our Working at Heights course already incorporates this, we are currently in the process of re-designing all of our online courses to make them compatible with smartphones and tablets. Stay tuned for the launch date of this new development!
Notification List
Stay tuned for information on these new courses and products. If you would like to be added to our course notification list, please send an email to info@yowcanada.com. We will notify you when new courses or products become available as well as let you know when we have sales. Alternatively, you ca sign up for emails here: http://www.yowcanada.com/contact.asp
Partners in Prevention Health & Safety Conference and Trade Show
Previously the IAPA trade show, PIP combines three events under one roof including: CANECT (Canadian Environmental Conference & Trade Show) and MASC (Machine Automation Safety Congress). This year, YOW Canada will have a booth dedicated to Working at Heights. We'll have a WAH specialist on hand to answer your questions and we'll also have some demonstrations for you. Come by and check it out!
Event details:
Location: Toronto International Centre, near the Toronto International Airport
When: April 26 – April 27 2016
Booth Location: 451

If you have any questions or would like more information:
Email: info@yowcanada.com
Phone: 1.866.688.2845

---
International RSI Awareness day
International RSI Awareness day is held annually on the last day of February to raise awareness of the debilitating effects Repetitive Strain Injuries (RSI's) have on workers, employers, governments and health care systems. RSI's can often be so severe; they can limit the mobility of the affected person and may leave them unable to care for themselves.
RSI's are becoming an increasing occupational health and safety problem across the world. Statistics Canada estimates that yearly, approximately 2.3 million Canadians suffer from an RSI or MSD which is often caused by work-related activities. Statistics Canada also estimates that the costs of RSI's and MSD's are quite large and have abroad scope, effecting everyone from employers to our health care system and income assistance for those who can no longer work; costing Canadians an average of 26 Billion dollars annually. Over 40% of all insurance and compensation claims in Canada are a result of an MSD and although the number is slightly decreasing each year MSD's are still the number one cause of lost time claims in Canada.
Whether you are a business owner, employee or a tax payer; RSI's and MSD's affect us all.
So what is an RSI or an MSD?

MSD stands for Musculoskeletal Disorders, which is an injury or disorder of the musculoskeletal system. MSD is a broad umbrella term, under which many injuries such as RSI's fall. The musculoskeletal system within your body includes muscles, tendons, nerves, blood vessels, joints, ligaments, spinal discs, etc.
An MSD is not an injury caused by an accident, incident or fall; it is instead caused by consistent repetitive motions or strains, often over the course of years. Some of the most common injuries include Carpal tunnel syndrome, tendinitis and back injuries and/or back pain. Many factors can impact the development of an RSI or an MSD such as repetition, forceful movements and contact stress.
What can you do?

There are a number of ways you can reduce the risk of both yourself and your employees developing an MSD, the first being education. Educate yourself on the causes of MSD's and RSI's, which work-related activities put you at the highest risk and ways that you minimize the effects of repetitive motions. Provide your workers with information on RSI's in the form of staff meetings, bulletins highlighting the possible short and long-term effects of this injury or provide them with a formal training, such as YOW Canada's Office Ergonomics course.
---
Working at Heights in Ontario
On April 1st 2015, the Ontario Ministry of Labour (MOL) set out new regulations, requiring workers that are required to use fall protection equipment on 'Construction Projects', and who are exposed to fall hazards to take a new more inclusive training course called "Working at Heights". A general fall protection course is no longer acceptable for any worker who may fall into this category. Working at Heights is a more extensive 8 hour training program putting a lot more emphasis with on hands classroom training. Those who are required to use fall protection equipment on 'Construction Projects' must complete an MOL approved Working at Heights (WAH) training program. To ensure that the quality of training is consistent across Ontario only Working at heights courses provided by approved vendor's through the Ministry of Labour will be accepted. Here at YOW we are happy to say that our course does meet this high level of standard.
Our Working at Heights training program is a blended learning style and consists of two parts theoretical and practical training. The training covers the legislation, hazards recognition, hierarchy of controls, warning methods, ladders, and personal protective equipment. The practical component of this course focuses on the personal protective equipment that may use with a focus of proper use, inspection and care also learners will have to demonstrate competency when it comes to donning and fitting a harness properly to themselves.
A Working at heights certificate will be valid for three years and is transferable from employer to employer. Upon completing your training, you will be issued a temporary certificate by your training provider and your official working at heights certificate will be mailed directly to you by the MOL.
If you need more information on whether or not you require this training please contact the MOL at http://www.labour.gov.on.ca/english/hs/faqs/wah.php

For any other Working at Heights inquiries please visit www.yowcanada.com/WAH
---