Industry Information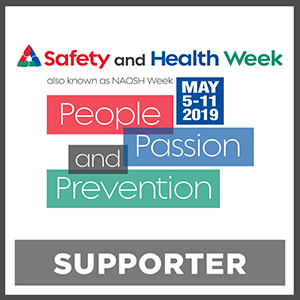 Industry Links
AHIMA (American Health Information Management Association)
An association of health information management (HIM) professionals.
Canada Occupational Health & Safety Regulations
A complete listing of the Regulations (SOR/86-304).
CAPP (Canadian Association of Petroleum Products)
CAPP's mission is to enhance the economic well-being and sustainability of the Canadian upstream petroleum industry in a socially, environmentally and technically responsible manner.
CCHOS (Canadian Centre for Occupational Health and Safety)
A Canadian federal government agency which serves to support the vision of eliminating all Canadian work-related illnesses and injuries.
Canutec
The Canadian Transport Emergency Centre for Transport Canada.
Compressed Gas Association
Dedicated to the development and promotion of safety standards and safe practices in the industrial gas industry.
Controlled Products Regulations
Hazardous Materials Information Review Act
Hazmat Management
Online and print magazine relating to Hazardous Materials.
Health Canada, WHMIS Division
Health Canada's WHMIS Division serves as the national coordinator for the panoptic governance and administration of the WHMIS program in Canada. Also, the division is the national secretariat for the federal, provincial and territorial government partnership program.
HRAC (Heating, Refrigeration & Air Conditioning Contractors of Canada)
A Canadian directory of Heating, Ventilation, Air Conditioning (HVAC) manufacturers, wholesalers and contractors.
HRAI (Heating, Refrigeration, Air Conditioning Institute of Canada) A partnership of industry sector organizations that represents Heating, Ventilation, Air Conditioning and Refrigeration (HVACR) manufacturers, wholesalers and contractors who provide the Canadian public with products and services for indoor comfort and essential refrigeration processes.
NIOSH (National Institute for Occupational Safety and Health)
The federal agency responsible for conducting research and making recommendations for the prevention of work-related injury and illness.
OHS Canada
A leader in Occupational Health and Safety information. Online and print magazine.
PHRC (Petroleum Human Resources Council of Canada) A national, not-for-profit collaborative forum that addresses human resources issues within the petroleum industry.
PSAC (Petroleum Services Association of Canada)
The national trade association representing the service, supply and manufacturing sectors within the upstream petroleum industry.
Transport Canada, TDG Directorate
The Transport Dangerous Goods Directorate is the focal point for the national program to promote public safety during the transportation of dangerous goods. The TDG Directorate serves as the major source of regulatory development, information and guidance on dangerous goods transport for the public, industry and government employees.
North American Occupational Safety and Health (NAOSH) Week
The goal: to focus employers, employees, partners and the public on the importance of preventing injury and illness in the workplace, at home and in the community